Android Version 3.5.0 - open beta release 6/7/2022.
iOS Version - TestFlight invite available 8/23/2022.
What's New:
User Interface (UI)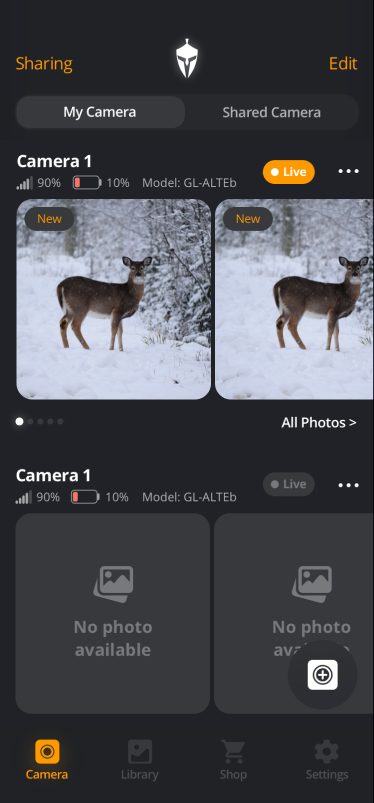 The UI of the Spartan Camera Management App has been updated for a more streamlined user experience. New icons and their uses are featured in the menu as seen below:

Camera: The app's homepage. You can check your cameras, share your cameras, and add/delete cameras from this page.
Library: A collection of all of your photos and videos. The library is made up of your cameras and any cameras that are being shared with you.
Shop: The shop tab will take you to the Spartan Camera mobile website where you can purchase cameras, accessories, and premium credits.
Settings: Account information, help guides, Shared Data Plan subscription management, and app settings can be found here.
Photo Library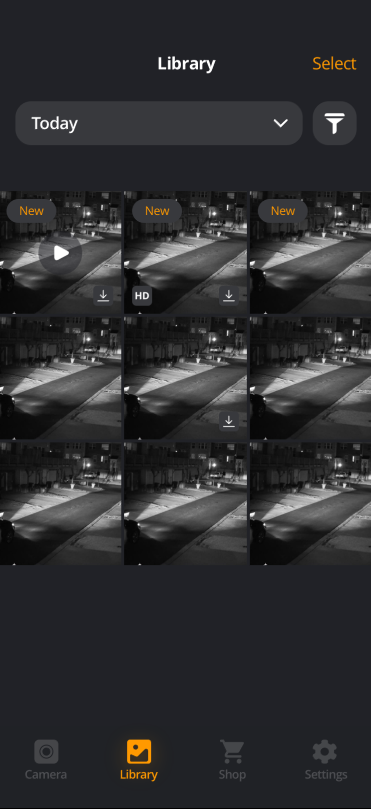 The library is a new feature that allows you to view all of the collective photos and videos you have access to. This includes all of your cameras and shared cameras. You can filter the library by a specific camera(s), time period, and the type of file you would like to see: saved photos, HD photos, or videos.
Camera Sharing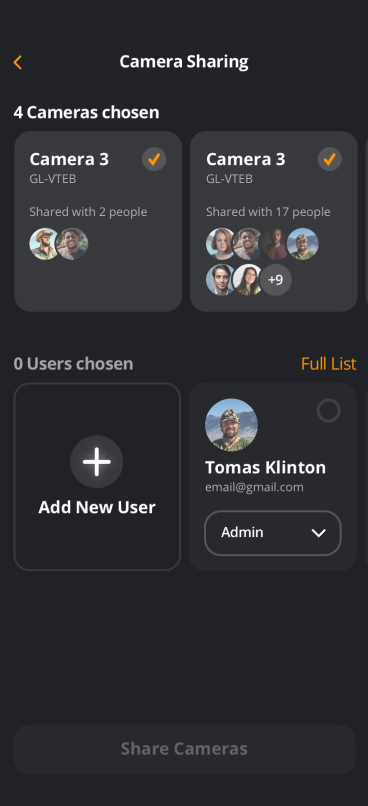 The "Share Camera" feature has been updated. Instead of selecting each camera and contact individually, you can now select multiple cameras and contacts to share cameras with at one time. Share Invitations work as they did previously; any users that you invite will need to accept the invitation, register an account and verify their email address in order to access your camera(s).
To share your camera(s) with others:
Tap Sharing on the top left of the screen. Select all of the cameras you want to share, then tap Share.
Tap Add Share User to open up your Spartan contacts list. Tap the +Add New User button to add users via email and select their access type. When you're finished, tap Done.
When you have everyone you want to share your camera with added and selected, tap Done. You will be brought back to the Camera Sharing page. Tap Share Cameras to finish the setup.

Note: All the emails you add to your Spartan contacts list will be saved to your account so they can be easily reused later.
To remove everyone's access to a shared camera:
Tap Sharing on the top left of the screen.
Select the camera(s) you want to stop sharing and then tap the Stop Sharing button.
To remove individual access to a shared camera:
Tap the gear wheel icon next to the shared camera on the Camera page to open its Camera Options menu.
Tap on the Share Camera tab and then select the user you want to stop sharing the camera with. Tap on Stop Sharing to remove their access to your camera.
Beta Release logs
06/21/2022 Version 3.5.3 (Beta) Android
Added support debugging tool to the Settings > About menu.
Fixed bug where videos were not able to download or play properly in cameras library.
06/14/2022
Version 3.5.2 (Beta) Android
Fixed random app crash bug that prevents app from relaunching from the current public version to the new UI beta version.
Fixed bug where the photo library was not loading old photos.
Adjusted Firmware Update display on Status Report page - instead of graying out the "Update" button when FW is up to date, now it will display "The firmware is up to date."
"Manage Data Plan" option is now clickable in Status Report page.
Hide "Manage Data Plan" from view in the Status Report page if the camera is not on an active Spartan data plan.
Limit the Library filter for Custom Date Range to within 30 days.
On the Camera list page, removed the signal percentage and show the last status report time and date.
06/08/2022
Version 3.5.1 (Beta) Android