Quick Links:
What are Premium credits?
One premium credit is worth one month of premium service for one camera.
There are no limits on the number of pictures, the number of videos, HD requests, etc., and there are no extra charges for large thumbnails, transmitted HD photos, or transmitted videos.
Premium service enables the camera to send photos (and videos for video-capable cameras) to the web portal and for unlimited users to install the free Spartan Camera Management app (Android or iOS) to receive photos.
Each new camera comes with one free premium credit, so one month of premium service for free.
Premium credit FAQ
Credits belong to your account, not to a particular camera. When you purchase credits, you have a pool of credits that each camera pulls a credit from each month it is in use. If your camera does not send any pictures in a given month (based on the day of the month you began premium service, not a calendar month), it does not use a credit.
If your account runs out of credits, the camera will not send the pictures it takes, but it will check in for scheduled status reports to see if credits have been added to the account.
Once you buy credits, your camera should begin working after the next time it contacts the server unless it has been without credits long enough that the batteries are dead.
While the camera is without a credit, it will continue taking photos and storing them to the SD card. However, it will not send any of those photos. Once it has a credit, it will begin sending new photos.
Buying premium credits
Android app only: After you have logged into your account on the Spartan Camera Mobile App, go to the ACCOUNT tab, select Premium Credit then Purchase Credits.
Using a browser (computer, iOS, or Android), go to spartancamera.com to log in to your account, choose SHOP from the main menu and then Buy Credits.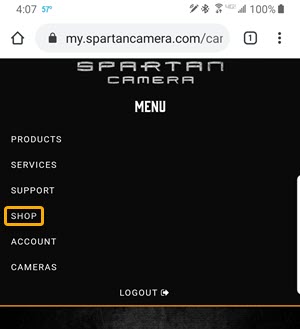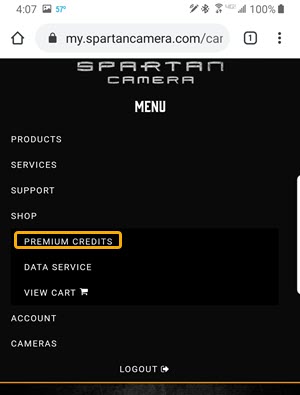 Premium credit pricing
1-5 credits cost $4/credit
6-11 credits cost $3.50/credit
12 or more credits cost $3/credit
Monitoring your premium credits
Log in to your account on the Spartan Camera Mobile App, go to the ACCOUNT tab, then Premium Credit.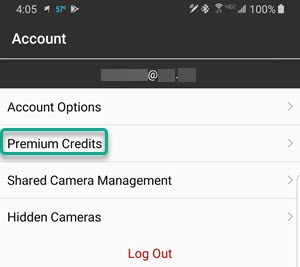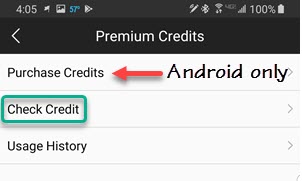 Or you can go to Usage History to check the purchase and usage history on your account.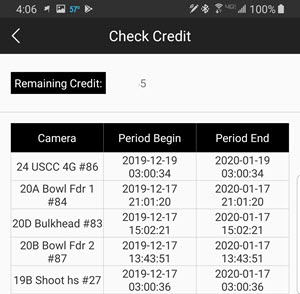 If you are using a computer (or a browser on your device), then go to spartancamera.com to log in to your account, then from the menu, ACCOUNT> Premium Credit History and you will see the transactions to your account, including credit purchases, free credits, and credit usage.