SD cards are the source of many problems with cellular trail cameras. A "bad" SD card can prevent the camera from coming up at all, or it will come up (flashing green light), but nothing will be displayed on the screen. It may not pass the Hello test or it may not send a manual photo. The camera may take/send the manual photo but may not send motion-triggered or event photos or it may send photos, but when you check the portal, every photo has the same number.
Here are some tips about SD cards.
Every SD card should be formatted in the camera when it is inserted into the camera. With the camera in setup mode, press the Menu button, scroll to the third (System) tab, then scroll down to Format.
Pay attention to the SD card info (space used and space free) on the status report. The total should be about the capacity of the card. If there is a negative number or if the total is not close to the actual SD card capacity, there is a problem with the SD card. You may be able to fix the problem by formatting the SD card, but you may need to replace it.
The green Format button on the Status Report screen in the app does not mean that the SD card needs formatting. Formatting the SD card is destructive. It erases all your files. However, it does allow you to format the SD card without having to go to the camera, which may get your camera back up and working if the SD card is causing problems. (The Format button is available only on the latest model 4G cameras. If that button is not on your status report page and your firmware is current, then the remote Format option is not available for that camera.)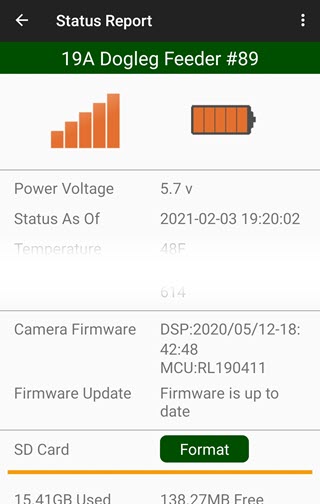 SD Card Recommendations
Recommended

Name brand
32 GB or less capacity (GoCam and Ghost; GoLive can use up to 128 GB)
Class 10
minimum 80 MB/s transfer speed (80-100 MB/s transfer speed preferred)
Standard size

May work

(not recommended to buy, but try it if you already have it)

Less than 80 MB/s transfer speed

Do not use

Larger than 32 GB (GoCam, Ghost; GoLive can use up to 128 GB capacity)
Less than 80 MB/s transfer speed
Note: For camera model SR3-CX, please refer to the Setup section of the user manual: LINK.