Overview
App Version 4.2.0
iOS - 10/17/2023
Android - 10/17/2023
This update contains a complete redesign of the Camera Settings page. Instead of multiple menus, all Camera Settings will be displayed on one screen.
We believe this update improves user confidence and understanding of the system, ultimately leading to a more efficient and user-friendly experience. and we will continue to improve the app as time goes on!
What's New:
Camera Description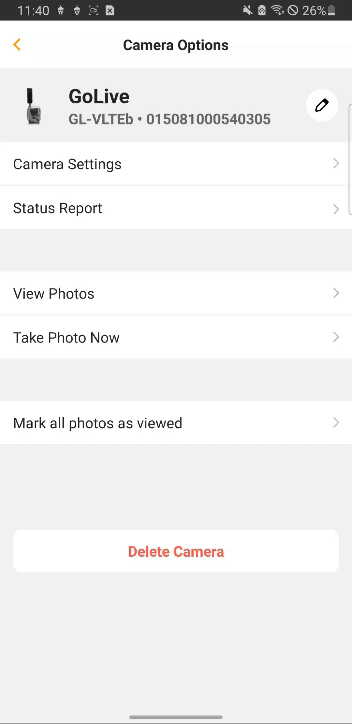 Editing the Camera's Description has been moved to the Camera options page for easier access. It will also display the Model and IMEI to help manage your cameras.
Tapping on the pencil icon will let you change your Camera's Description. Once you have finished changing the description, press the 'Done' button or the enter/return key to close the menu. The changes will apply immediately and the updated Camera Description will appear on your Camera list.
Camera Settings Page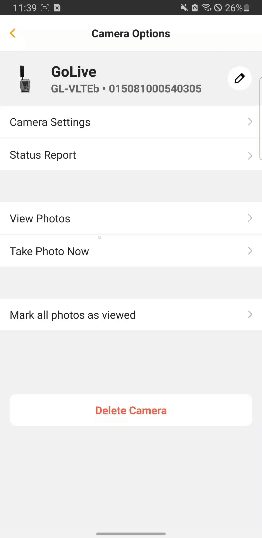 The settings menu will start off with a preview of a single setting. This preview cannot be changed. When tapped, the settings will cascade showing all settings that can be changed under that section.
Default Camera
At the top right of this screen, you will find our new Default option. You can use this to reset all camera settings to default. Once pressed, you'll be asked to confirm revert settings to default and then to confirm if you want to send the update camera setting request to your camera.
Settings Reference
Each section will display a 'hint' icon

. When pressed, a page will slide up with a brief description of all the settings available.
You can also click the "Show all Settings" button on the bottom, which will take you to our Camera Settings Reference page.
Click here to view the camera settings reference.
Please note: This Camera Setting Reference will explain all settings that can be found on the app, and will vary between the Mobile App and Camera.
Trigger Mode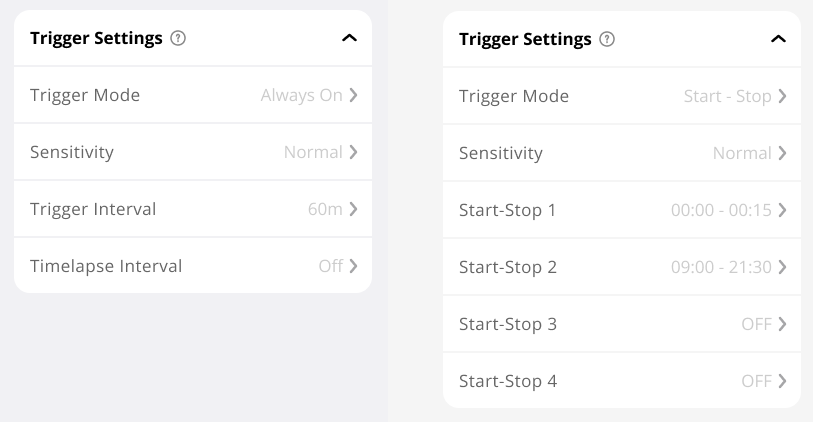 There are two new trigger Modes in this update: Always On and Start-Stop. The 'Always On' Trigger Mode was made to differentiate between regular Trigger settings and the Start-Stop settings.
This Setting does not affect the camera's current behavior, and is meant to show if the camera is using its Start-Stop settings or not. The default value for Trigger mode is 'Always On' unless the camera has existing start-stop times.
Always On
When the Trigger Mode is set to Always On, The Trigger Settings will display its usual settings:
Trigger Type, Sensitivity, Trigger Interval, and Time-Lapse Interval.

When the Trigger Mode is switched from Start-Stop to Always On, the Start Time and Stop Time Settings will be switched to OFF automatically.
Start Stop
When the Trigger Mode is set to Start-Stop, The Trigger Settings will display:
Trigger Mode, Sensitivity, Start-Stop 1 and Start-Stop 2.
(and Start-Stop 3 and Start-Stop 4 for GoLive cameras)

If the Start Time is set to OFF then OFF will be displayed on the setting preview.

If a Start-Stop setting is turned on, the preview will display [Start time] - [End time].