If you want to share your cameras with friends and family or a co-worker or client, you can do this by sending them a Share Invite from our mobile app: Android | iOS.
Guest - View only

Photos and videos*
Status Report
Camera Settings

Admin - Has full access to the camera you choose to share except for re-sharing and deleting the shared camera from the original owner's account.

Delete photos and videos*
Change camera settings
Cancel pending actions
Request HD, Videos*, Status report, Firmware update, Format SD card*, Take a photo now*.
Start Livestream*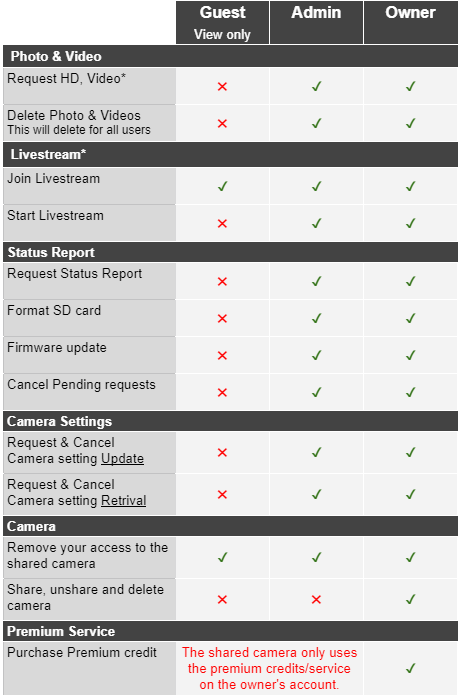 *Videos, HD...etc options are only available for cameras with compatible features.
** When the camera owner or admin initiates it.
Note: Both Guest and Admin will only have access to new photos and videos that are transmitted after the share invite is accepted. Shared camera can only be accessed and managed from the mobile app.
For Camera Owner
For Guest & Admin
Share a Camera
For Camera Owner
Tap the menu button for the camera, then tap Share Camera.




Enter the person's name, their email address, and choose either Admin (complete control over the camera settings and HD and video requests) or Guest (receive photos and videos only) access then tap

Send Invite

.

On the confirmation message, tap OK.



The recipient will receive an email similar to this one. They will have to click the link to accept the share. If the link has expired, you need to unshare the camera (see instructions below) and then reshare it.

Unshare a Camera You Shared to Someone
For Camera Owner
On the

Account

tab, tap

Shared Camera Management. Tap the description of the camera you want to unshare.




Swipe left on the name of the person with whom you no longer want to share.

Tap Delete

Remove Shared Camera
For Guest & Admin
To remove remove a shared camera:
On the Home page, tap on Shared Camera
Then on the left of the camera, tap the menu button to display the options, then choose Delete Camera.
Once removed, you'll no longer have access to the camera and its photos, videos...etc.