Please note that this is the app settings page, not a camera settings page. See the page selection icon at the bottom of the page.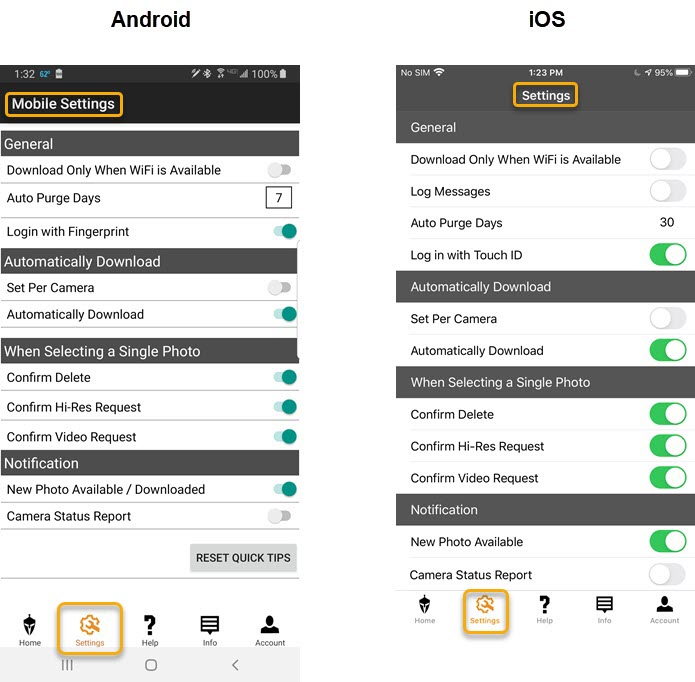 Android and iOS app settings are quite similar.
General
Download only when WiFi is Available Use this setting if you want to save your phone's data by not downloading photos while you are using cellular data, only download them when your phone is connected to WiFi. If you want your pictures to download when they are available and you are not concerned about using your phone's data, this setting should be OFF.
Log Messages iOS only. In the Android app, message logging is automatic. The log (available on the Info tab, Log (Android) or System Log (iOS)) is used by tech support and developers for troubleshooting purposes.
Auto Purge Days This is how many days unsaved photos are stored on your device. By default, the number of days is 30, which is also the maximum days. If you want fewer photos taking up space on your device, set the purge days to a smaller number, something long enough that you have time to save any photos you want to keep, but not so long that your device is clogged with photos.
Login with Fingerprint or log in with Touch ID These settings allow you to use your fingerprint instead of your email and password to log in to the app if they are ON.
Automatically Download
Set Per Camera enables you to specify that you want photos from some cameras downloaded automatically but want to request the download manually for others. This can be useful if you have security cameras that you want to download automatically but other cameras that you only want to download at your convenience. See the link below for more information.
Automatically Download usually should be ON, but if you want photos downloading only when you request the download by pressing the Download button for the camera on the Home page, set it OFF.
When Selecting a Single Photo
The following three settings are used to specify whether you want to confirm deleting a photo, requesting a hi-res photo, or requesting a video. Set to ON if you want to confirm, OFF if you do not.
Confirm Delete
Confirm Hi-Res Request
Confirm Video Request
Notification
For all 4G cameras and the ATTxb/i, you get a status report every time you get a photo. Receiving notifications for both can be annoying. These two settings enable you to get the notifications you want and not get the ones you don't want.
New Photo Available
Camera Status Report
Set Per Camera Explained
If you choose Set Per Camera, you will see a list of your cameras with a download choice for each.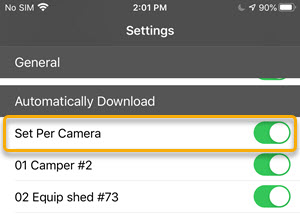 This screen shot shows automatic download turned off for two feeder cameras and on for all the other cameras listed.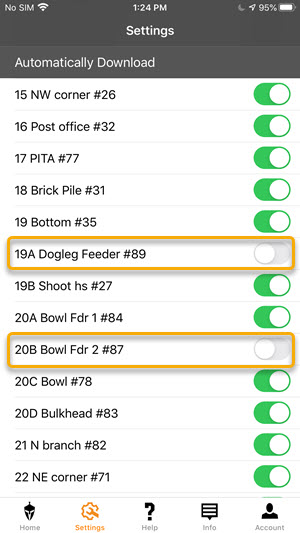 To download photos for cameras with automatic download turned off, tap the Download button to the right of the camera name (Home page).